Published: 15/04/2021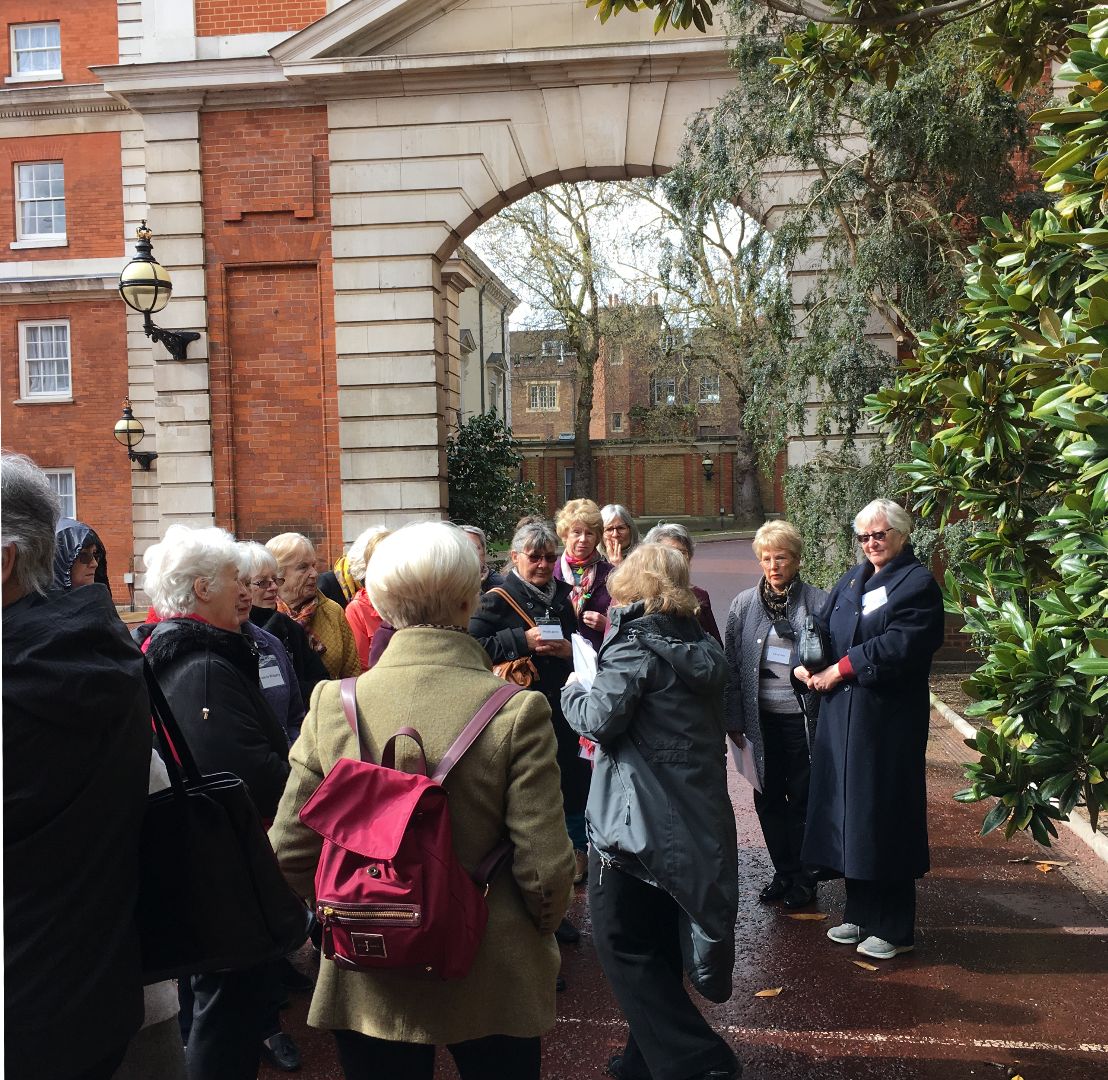 Can you remember how you first came across The Arts Society, or NADFAS as it was?  Were you brought along by a friend? Did you find your way there because you wanted to learn more of the Art World? Were you tempted by the reputation for high quality lectures and visits?
Daytime activities are largely off limits to those who are in work. Towards the end of my working life, I was fortunate in having the opportunity to retire gradually. Redundancy in my 50's, when it seemed a bit late in the day for me to look for fresh career opportunities, gave me some space to become self employed and to work as and when I felt like it. As a qualified pharmacist, I discovered that I was in demand for locum duties and so spent a very happy ten years working for myself and offering days off and holiday cover for other pharmacists in a variety of locations. However, the 'as and when' aspect soon evaporated and I found myself working more hours than I had ever done! During that period I was able to explore what exciting activities might be out there for a retired person to occupy their time. My husband and I had often had conversations about how, in our youth, we had both missed out on an Arts education. We had both chosen science based degrees which required science A levels, so any arts and humanities were squeezed out of the curriculum. We identified that retirement presented an opportunity to redress this balance. 
Amongst the many cultural offerings in Bedford, we both enjoyed membership of the Friends of the Higgins Gallery and it was at one of their lectures that the seeds were sown which led to my joining NADFAS. I picked up a publicity leaflet there which led me to the website to find out what NADFAS were doing in Bedford. I was delighted to find that I recognised the name of the local contact and so was given the confidence to ring her up for further details and to put my name on the lengthy waiting list to join. Things then moved on rather swiftly. At the next Friends of the Higgins lecture, I had been asked to give the vote of thanks to the speaker. My NADFAS contact was in the audience and I suspect that a little flame was ignited in her head that flashed -  'potential committee member'. My phone rang the following day with a proposition! 'Did you know', she said, 'if you volunteer for the committee, you can jump to the top of the waiting list?' This was indeed true.
I was still actively doing my locum duties but I was able to take up her offer by clearing my work diary on Tuesdays to allow me to attend NADFAS meetings and committee meetings. Thus it was that I became a committee member almost before I had attended any lectures. This made me feel a bit of an intruder and an upstart until I learned that there was a general atmosphere of reluctance in the membership to join the committee and that new committee members were a bit of gold dust. Why is that? Many years later when, as Chairman, I was recruiting new committee members, I realized the gold dust was very hard to find.  I promise that committee membership is fun! In the 10 years or so that I served on the committee, I got far more out of it than I ever put in. It broadened my horizons, introduced me to a lot of interesting people, and gave me opportunities for learning. I never regretted it for a moment. I attended some interesting and varied conferences, area meetings and study days. I survived all the meetings and debates in the contentious process of the rebranding from NADFAS to The Arts Society – still a matter of debate for some.
I retired as Chairman in May 2019 and the Covid pandemic started to bite later that year. Several people have told me that I escaped just in time! By March 2020, the country was in the first lockdown, live lectures were not possible, venues closed  as did destinations for visits and the world found itself in a situation with no precedent in the course of our lifetime. The response to this from The Arts Society has been extraordinary, both nationally and locally. As we have all become accustomed to living our lives via assorted screens, the output of material from The Arts Society has been astounding and hats off to all those steering through uncharted waters. In recent weeks I have, via the computer screen obviously, been on a guided tour of the Mauritshuis in The Hague and a guided walk around Kyoto in blossom time.  I have enjoyed lectures from the North Beds Society and the Woburn Society as well as having invitations to join lectures from just about everywhere. There are tours of galleries, gardens, stately homes as well as very personal presentations by lecturers from their own homes. All this, of course, is not available to members without the necessary technology and devices - we must not forget them and their needs.
I know we all miss the social contact, the conversation and banter, the occasional glass of wine. We look forward to a return to real meetings but only when it is safe to do so. The Arts Society will continue to be a wonderful organization in its ability to educate, to inform, to support Arts ventures and bring like-minded people together. Long may it continue .
Sue Allen