Q: When do you meet?
We hold lectures on the last Tuesday of the month except for July, August and December. All lectures begin at 11.00 am. We also arrange special interest events and visits from time to time. All future events are  listed on this website. 
Q: What does the membership fee cover?
Our annual membership fee covers entry to all our lectures and gives you access to the information and services provided by the Arts Society at national level. These include the Arts Society magazine and regular email updates. We charge an additional fee or ask for donations for special interest events and visits but our members have priority when booking. Members are also usually able to apply to attend events hosted by other arts societies at a special member's rate.  
Q: How are you responding to Covid-19?
Because of the pandemic, we took the decision to put our events online using Zoom for a time. We have now returned to live events.
Q. Can i search the website? 
Yes. There is a search box at the bottom of each page of the website. There is also a magnifying glass symbol you can click on to search at the top right of your screen. Type in what you want to search for and then press your return key. You will be taken to a page showing any results for your search. 
Q. does the website work on a smartphone or tablet?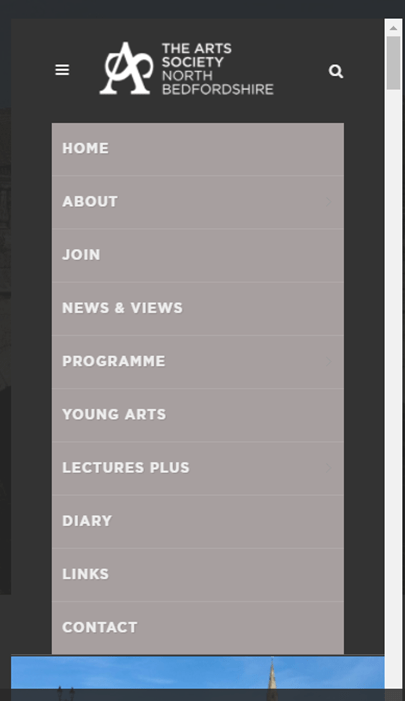 Yes. The software underpinning the website will adjust to get the best fit with whatever device you are using. You may find in some cases holding your device horizontally gives the best view.
Please note that the menu when you use a smartphone or tablet will show as a set of horizontal lines. You click on those to bring up the full menu.