Published: 07/05/2021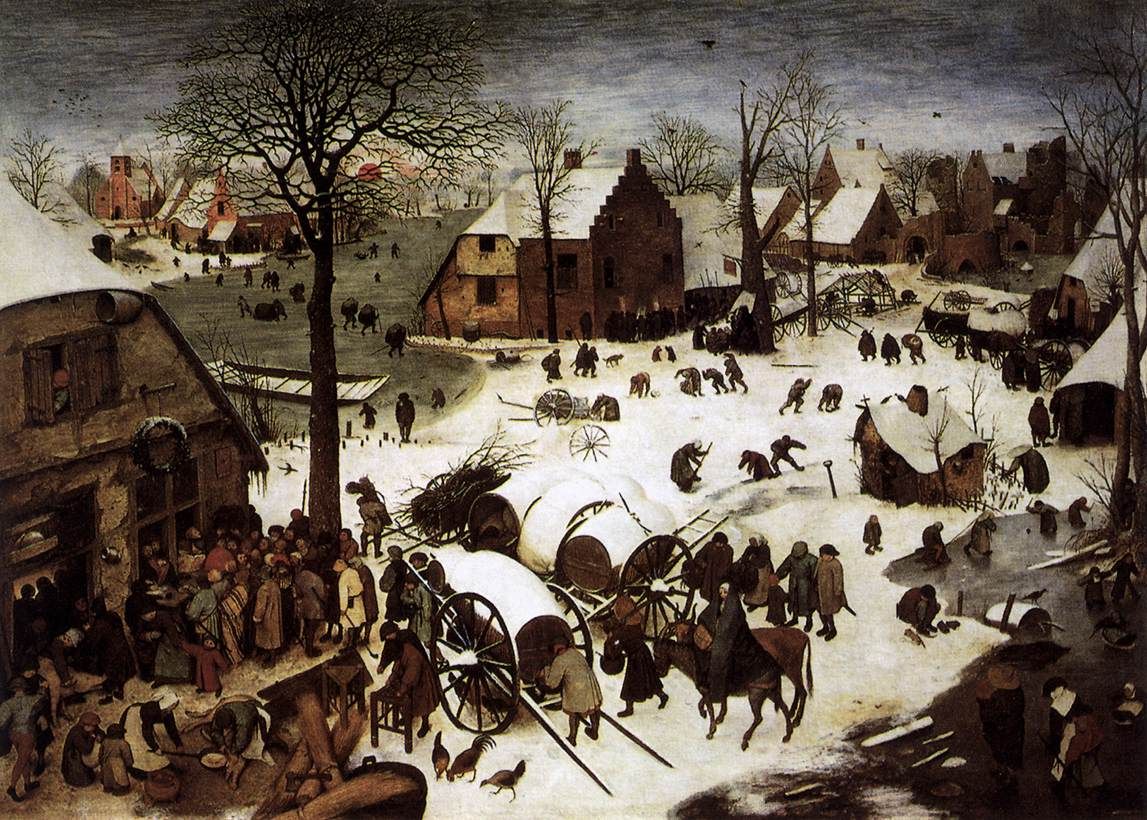 Maybe like other members of our Society my discovery of the joys of art started late in life.   My family enveloped themselves in music, and I thought nothing of doing my homework to a Bach cantata. Nonetheless, in my fifties, I found myself working and studying in Brussels.   What 'free time' I had was spent roaming around the museums in that beautiful city.   It was there I discovered a collection of Bruegel paintings – and Pieter the Elder's 'Census at Bethlehem' (shown here) absolutely bewitched me!  Here was a painting that actually 'told a story'.  It was a commentary on social and political history in that part of Europe in the 16th century when Spain was the occupying force of Philip of Spain's Hapsburg empire.  The artist is depicting a biblical event (Luke 2, v 1-5) in a contemporary setting.  It was painted after one of the harshest winters on record in Flanders in 1565 and highlights the severity of the occupying Spanish administration.  The more you look at this painting, the more you can understand just what was going on in this part of the world during the sixteenth century. I was hooked!
At that time too I met Ann Gray - dear late friend - because we both went to wine tasting classes at the REC.  When I expressed interest in art she undertook my 'art education', visiting galleries in London, Cambridge and Oxford and even overseas in Rome.  She also introduced me to NADFAS – now known as The Arts Society, where she was a 'queen bee'.  Still working full time I found it difficult to attend lectures on a regular basis so it was not until I retired that I became a fully fledged paid up member.
And so began my journey into art and discovery of the benefits that The Arts Society had to offer.  No doubt for most people the monthly lectures provide the major part and highlight of their membership.   I can understand this well – for the lectures not only offer the opportunity to share an interest in art with other 'like minded people' but the lectures themselves have provided stimulus and encouragement to look beyond the usual parameters of art.   And of course, too, there is the social side of these meetings.  Lunch with friends often follows.   And for our branch, the opportunity to buy 'arty books'and other novelties at reasonable prices.   Recent highlights?  I thought Sandy Burnett's 'The Age of Jazz' was brilliant but so was the lecture on George IV and his extravagant tastes. Unusual?  The lecture on Scottish Colourists – I must admit my ignorance and confess I had never heard of them before.
Special Interest Days too in 'normal' times provide a relaxed environment to learn in detail more about a specific topic, with coffee and lunch provided. But under Covid rules and regulations we can still enjoy via Zoom the essence of certain aspects of art.   I particularly enjoyed going behind the scenes at the Royal Opera House last year.   Fascinating detail and thoroughly enjoyable.
Visits and trips out are popular too. I have enjoyed walks in London, and the recent visit to Peacock's new venue was really worthwhile. It was amazing to see what a variety of goods was on sale.  Who buys these things?! These activities are presently'on hold' but there are plenty of 'virtual ' activities on line you can participate in.
The Arts Society Magazine is a source of commentary, knowledge and importantly what events other branches are holding.   Peter Medhurst events held in Surrey are worth the trip down the M1 and M25 if your interest is in musical aspects of art.   But the recent London branch offering of Durer and his three Journeys, was outstanding.  Of course, this had to take place via Zoom but the speaker was so professional and easy to listen to, that in a way it didn't really matter.   And it saved a trip down to London in the winter months. 
Whilst the use of IT and in particular Zoom in the pandemic may largely exclude the social aspects of The Arts Society, it does provide the means of continuing lectures and some modified aspects of our other activities.     Let's hope it won't be too long before we can all get together again in person.
Elizabeth Houghton