Published: 10/11/2021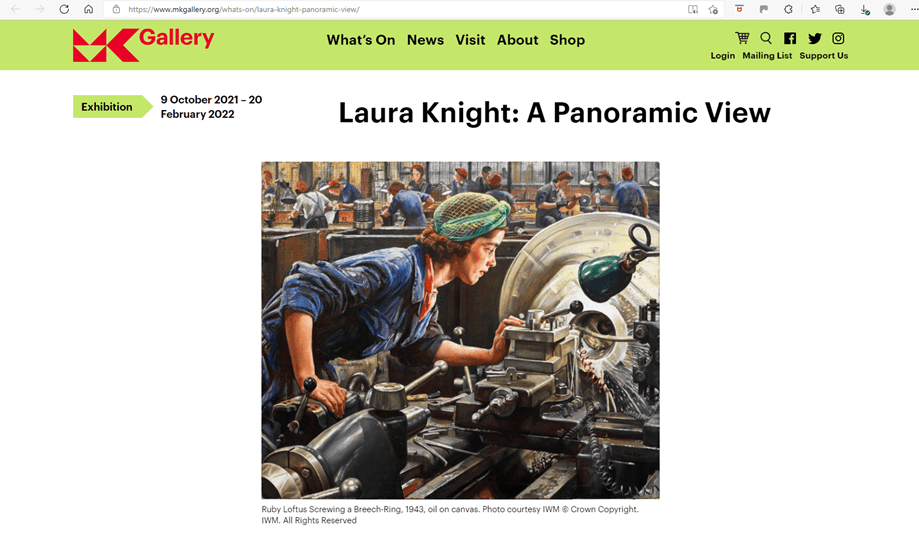 The current exhibition at  MK Gallery, "Laura Knight: A Panoramic View",  includes over 160 works from a number of public and private collections. These reflect the variety of the work of only the second female artist to be elected to the Royal Academy. 
Five rooms at the gallery display the range of Knight's work and show how she experimented with a range of styles and techniques. There are paintings inspired by her time in Yorkshire and Cornwall depicting everyday life and local scenery, with some, such as those depicting nude bathers, challenging the conventional. Then there are candid paintings in theatres and circuses, including several showing dancers, actors, clowns, and other performers backstage or behind the scenes. Her choice of these subjects and her paintings of gypsies included people who have not traditionally been the typical focus of paintings.
In her portraits of such people, Knight took steps to get close to her subjects and their lives. In one painting in a ballet dancer's dressing room, you can just make out Knight's easel in a mirror; the implication being that both the dancer and the artist were working. By contrast, for some of her paintings of gypsies, she painted them from an open top Rolls Royce, in which she mounted her easel. There are also a small number of portraits from her time in the USA  of a black nurse and patients, completed, of course, in an era of segregation. 
Then there are her war paintings, official commissions from World War 11. One of these, "Ruby Loftus Screwing a Breech-Ring" has been chosen for the exhibition poster. Like the other paintings from this period, there is meticulous attention to detail and a realistic depiction of people, machinery and weaponry. Next to these paintings are two sketches for her painting of the Nuremberg trial - these show the defendants in the courtroom and capture the drama of the event.  The painting itself is not part of this exhibition. It realistically depicts the Nazi war criminals on trial but the walls of the courtroom are missing to reveal a ruined city, partially in flames, something that made a big impression on Knight herself.
The final room includes examples of her later work with a return to paintings in the theatre, portraits and scenes from the Malvern area. 
This is an impressive exhibition, well explained, varied and thought provoking and covering Dame Laura Knight's long career. 
Rob Bollington